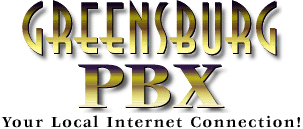 ---
Navigator

---

Greensburg Net News
Home Page
Local News
News History

Greensburg PBX
Home Page
How to get connected
Our prices
What we are doing

Services
Web Publishing
Who's Online
Bulletin Board
Cyber Patrol

Local Sites
Greensburg Home Page
GADPA Newsletter

Technical Support
Technical support
Known problems
PAP Support
News Server Support



PAP Support
Greensburg PBX can now support PAP or Password Authentication Protocol. This will allow a user to connect to our system without supplying their user name and password through a terminal screen or script. This should make connecting easier and faster to accomplish.

Below are steps to setting up PAP on your PC. As of now we have only tested PAP with Windows 95. We will update this page with the steps needed for different operating systems.

If you connect by entering your user name and password through a terminal screen on Windows 95 then follow these steps.

Go to My Computer then to Dial-up Networking. Click on the Greensburg PBX icon (it could be named something else). Go to the File menu and click on Properties.
Once you are to the properties window click on the Configure button and then click the Options tab.
Unmark the check box for bring up terminal after dialing. Then click OK until you are back to where you started.
When you now try to connect, you need to enter your login ID and password before you click Connect.

NOTE: PAP Support was installed Thursday June 26, 1997. It is new to our system and we have tested its functionality and have found no problems. This does not mean there are no bugs, so if you have problems connecting with PAP either call or e-mail us.
---
Greensburg PBX
121 E. Main St.
Greensburg, IN 47240
e-mail: webmaster@mail.gpbx.net
phone: (812) 663-4912
fax: (812) 663-6268