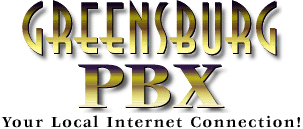 ---
Navigator

---

Greensburg Net News
Home Page
Local News
News History

Greensburg PBX
Home Page
How to get connected
Our prices
What we are doing

Services
Web Publishing
Who's Online
Bulletin Board
Cyber Patrol

Local Sites
Greensburg Home Page
GADPA Newsletter

Technical Support
Technical support
Known problems
PAP Support
News Server Support



Web Publishing
Greensburg PBX offers the fastest Web server in Greensburg. We are connected to one of the largest Internet pipeline with a full T1 (1.54Mbps) through MCI. We offer virtual hosting and other services. We do not however, develop the web pages ourselves, we only offer a place to store them. If you require web design and development we currently work with two local businesses.


| | |
| --- | --- |
| | Web Sites and Services offers custom web development from simple single page sites to more complex sites with multiple pages and form returns. |
| | B & R Web Development has restructured and is now Best Web Development. We offer you custom web page development and design. |

To find out more on pricing visit their home pages by clicking on the image or if you want to develop the page yourself and have us store it on our web server call us at 663-4912 during regular business hours.
---
Greensburg PBX
121 E. Main St.
Greensburg, IN 47240
e-mail: webmaster@mail.gpbx.net
phone: (812) 663-4912
fax: (812) 663-6268