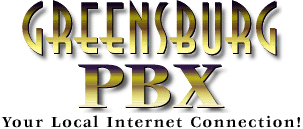 Navigator

---

Greensburg Net News
Home Page
Local News
News History

Greensburg PBX
Home Page
How to get connected
Our prices
What we are doing

Services
Web Publishing
Who's Online
Bulletin Board
Cyber Patrol

Local Sites
Greensburg Home Page
GADPA Newsletter

Technical Support
Technical support
Known problems
PAP Support
News Server Support



How to get connected
Greensburg PBX offers a wide range of services to individuals and to businesses. Our services run from basic connections to custom Internet work.

Getting connected to Greensburg PBX is a very simple process. You first need a computer, this can be an IBM or compatible running Windows 3.1 or Windows 95 or a Macintosh. You will need a modem and a phone line. A 14.4bps or higher modem is recommended.

Once the proper equipment is acquired you will need to obtain a login account and e-mail account. This is done by stopping in at our store and filling out a signup sheet. We are located at 121 E. Main St. which is on the South side of the square, the on with the tower tree. Look for the Excel sign and Maytag appliances and go through the doors to find us.

If you have any questions on the equipment you need or how to find us you can call us at 663-4912. We are open 9:00 to 5:00 Monday through Thursday and 9:00 to 6:00 on Friday and 9:00 to 1:00 on Saturday.
---
Greensburg PBX
121 E. Main St.
Greensburg, IN 47240
e-mail: webmaster@mail.gpbx.net
phone: (812) 663-4912
fax: (812) 663-6268