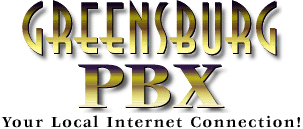 ---
Navigator

---

Greensburg Net News
Home Page
Local News
News History

Greensburg PBX
Home Page
How to get connected
Our prices
What we are doing

Services
Web Publishing
Who's Online
Bulletin Board
Cyber Patrol

Local Sites
Greensburg Home Page
GADPA Newsletter

Technical Support
Technical support
Known problems
PAP Support
News Server Support



Technical Support
We realize with all the changes on the Internet and all the changes we make here that we must provide constant technical support. We have devoted this section to providing you with information about existing problems and to give you the means to contact us. There are currently two way to contact us.

1. E-mail. You can simply e-mail us at support@mail.gpbx.net.

2. Phone. You can call us at 663-4912 during regular business ours or leave a message at 663-6268 and someone will be notified.
---
Greensburg PBX
121 E. Main St.
Greensburg, IN 47240
e-mail: webmaster@mail.gpbx.net
phone: (812) 663-4912
fax: (812) 663-6268